for business use

Food service brand that make use of the technology cultivated through the development of natural seasoning is "TOKYUCHUSHI".
We have a wide range of products including no chemical seasoning product such as Garapon which is easy to make an authentic soup.
A wide range of products are available to meet the various needs of ramen users, from flavor oil to ramen with hot water only.
---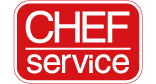 "Chef Service" is a brand for hotels, restaurants, and for Western cuisine. Fon de veau and bouillon made in New Zealand and Australia with ideal environment, demiglace sauce and curry etc. We are proud of high quality and classy products.